What is Carpal Tunnel Syndrome?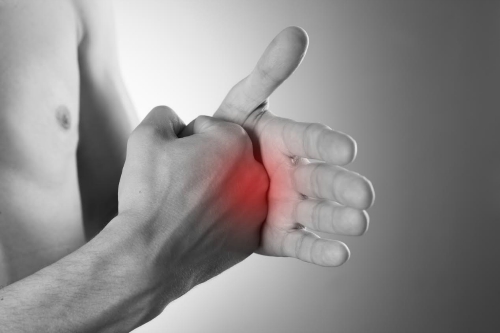 Carpal tunnel syndrome is pain, tingling and numbness experienced in the hands because of pressure on the median nerve in your wrist.  There are 8 tendons and the median nerve that enter the hand from the forearm that run through a small space in your wrist called the Carpal Tunnel.  The median nerve controls movement and feeling in the thumb, index, middle and part of the ring finger.
Occupational therapy helps carpal tunnel by decreasing pain in the hand and wrist using modalities (eg. ultrasound), instructing in appropriate stretches and exercises, recommending or fabricating custom wrist braces to help support the wrist and reduce repetitive movement in the wrist to decompress the median nerve.  Carpal tunnel is often accompanied by other tendonitis conditions such as 'trigger finger' or 'DeQuervain's' tendonitis. 
A very important part of the occupational therapy assessment is determining what factors are causing compression at the wrist and addressing any issues at the shoulder and the elbow that may be causing symptoms.
Splinting
Custom splint fabrication is a service only performed by trained therapists specializing in upper extremity injuries.  Splinting is typically ordered by the physician especially in postoperative care.  Custom splint fabrication is used for wrist, hand, finger and elbow fractures.  It allows the patient to have the support required to allow bones to heal properly while offering protected motion to prevent stiffness and hand deformity. 
Dynamic splinting is used for delicately repaired tendon injuries that require early movement to prevent scar adhesions.  It is vital that a tendon has the right amount of tension and is in the correct position to prevent rupture of the repaired site.  Dynamic splinting is also used to help facilitate movement for individuals with neurological disorders.  Often individuals who have a neurological disorder have difficulty extending their wrist or fingers to release objects.  A dynamic splint can assist in opening the hand to allow function. 
Register for your appointment at BodyPro Physical Therapy  
Common injuries 
Knee, Shoulder, Hand, Elbow, Back and Neck

Return to BodyPro Physical Therapy's